Of all the issues that affect Wisconsin residential water, hard water is easily the most prevalent.  Fortunately, it is also one of the easiest problems to fix.  At Advanced Water Treatment, we recommend the Impression Series® Softeners by Water-Right Inc.
Soft water will change your life.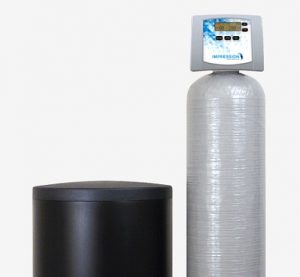 Get the clear, soft water you want. Impression Series® water softeners solve hard water challenges. Day and night, your water will now perform like it should — creating rich lathers with less soap, rinsing cleaner without film or residue. Plus your appliances will perform at peak, your clothes and towels will be softer, and your hair will be silkier!
Meter monitors and self-adjusts regeneration cycles based on household trend of water consumption
Easily programmed for optimum performance
Solid-state microprocessor control
Easy to read LED screen with user friendly console
Flexible "adjustable cycle sequence" programming — saves salt and water
Advanced history and diagnostic screens and lithium battery backup
Features an optional weather cover for outdoor installations
We offer a number of different systems to meet your needs.  Below are our most popular installations:
Impression Series® Softeners
Whether you have hard municipal water or extremely hard well water, Impression Series® water softeners deliver the clear, soft water you want and need.  It's true… nothing will last longer than your first Impression.
Solid-state microprocessor control
Meter monitors and self-adjusts regeneration cycles based on household trend of water consumption
Easily programmed for optimum performance by our
installers
Extended lithium battery backup
Flexible "adjustable cycle sequence" programming —
saves salt and water

Show me literature                         Show me specs                          Product manual